Frequently Asked Questions
General Frequently Asked Questions
Can I move the fittings on my Moeller fuel tank to make them work for my application?
No, our process does not allow us to move fittings that are molded in during the molding process. Moeller fuel tanks are designed for the recreational boating industry. We don't have any data and do not recommend any modification be done to these tanks. Any modification or change is at the risk of the owner and also voids any warranty that accompanies the product.
Key Point: Cross linked polyethylene has unique properties which make it an ideal material for fuel tanks. These same properties make it difficult for sealant materials to adhere long term to any part of the tank. This is the reason that the tank fittings are molded into the wall of the tank. This also ensures a leak-free connection to the fuel tank.
How much space should I allow above the tank for the fill hose connection?
Please add 2 1/8″ (54mm) to the tank height to allow for the hose fill. Additional space will be required if you are using a 90 degree hose connection.
How do I purchase directly from Moeller?
Moeller is a manufacturer and doesn't sell to the general public. Please contact a customer service representative for assistance in locating a retailer in your area, 800-432-8344.
How do I open an account with Moeller?
Please contact Moeller customer service, 1-800-432-8344.

---
Clear Site Fuel Filters FAQ's
Will the Clear Site filter work with a 2 or 4 stroke engine?
Yes, it will work with either 2 or 4 stroke engines.
Can I use any of the Clear Sites with my inboard engine?
No. The composite filter heads and clear bowls are for outboard use only due to fire safety regulations. You must use and aluminum head and bowl for inboard engines.
Can I use the Clear Site filters with diesel?
No. Diesel uses a different type of filtration system.
How many gallons per hour is the flow rate on Water Separating filters?
85 gallons per hour flow rate @ 3″ of mercury.
How often should I change my filter?
It is recommended to change your filter after 50 hours of use.
How do I install my Clear Site filter?
The filter must be mounted in a horizontal position. Plugs and barbs are included in the kit.
Are gaskets on the Clear Site filters compatible with ethanol?
Yes
What is the dimension of the Clear Site filter?
3 3/4″ diameter. Assembled height is approximately 9 1/4″. Holes are 2″ apart.
Can I use the Clear Site filter with an electrical pump?
This is not recommended due to the risk of starving the pump.
Can I use my filter head with a Moeller filter?
Most Moeller filters will work with OEM heads as long as they have the appropriate filter. (i.e. Mercury 033323-10, OMC J/E 033325-10)
What size are the micron filters?
Water Separating filters are 10 micron and in-line fuel filters are 20 micron.
Are Moeller water fuel separator heads interchangeable?
Yes
Which way do I hook the hoses to the head of the water fuel separator?
It doesn't matter as long as the extra holes are plugged. Follow the direction of the arrows.
Where does the fuel filter go exactly before or after the primer bulb?
Fuel should go through the fuel filter before going into the primer bulb.

---
Permanent Fuel Tanks FAQ's
What is the diameter of the fuel fill on Moeller permanent fuel tanks?
2 1/4″ on most threaded fills and 1 1/2″ on permanent install tanks.
Are the hold down brackets stainless steel?
No, Moeller brackets are plastic or aluminum. Moeller does offer a topside tank hold down kit (035711-10) and a below deck tank (300110).
Do I need to place anything between the brackets and fuel tank?
Please follow the installation guidelines of ABYC H-24 section Z. (http://www.abycinc.org/ezptc/)
How tight do I secure my tank to the floor?
Please follow the installation guidelines of ABYC H-24 section Z. (http://www.abycinc.org/ezptc/)
What will happen if I don't allow for 3% expansion?
If the fuel tank is not allowed to expand as it is designed, the tank can warp and possibly affect capacity and component function.
Is there an adaptor to change the straight fill to a 90 degree fill?
Moeller does not offer this type of adaptor.
I'm having a problem filling my fuel tank. It blows fuel back out even if I try to fill it slowly.
Any suggestions?
Make sure that the vent line is open and not restricted. If the fuel tank has been replaced, check to be sure that the vent is on the correct end.
How do I remove the pick up from my fuel tank?
Threaded in pick ups would need to be turned counter clockwise to remove. Pop lock pick ups should be pulled straight up.
Do the dimensions on the Moeller website include the fittings?
No. Please add 2 1/8″ (54mm) to the tank height to allow for the hose fill. Additional space will be required if you are using a 90 degree hose connection.
How much height should I allow for fittings?
One should allow 3″ for fittings.
Is there an epoxy or adhesive that Moeller recommends that will adhere to the fuel tanks?
No, unfortunately not.
Do Moeller fuel tanks come with a sending unit and pick up assembly already installed?
Yes. Moeller fuel tanks are tested before they leave our facility ready to be installed.
Does Moeller manufacture custom fuel tanks?
Yes, Moeller does manufacture custom fuel tanks. Customizing fuel tanks would be tailored more towards boat manufacturers due to the expense of tooling that is involved. Moeller does offer many fuel tanks on our website for those looking for replacements.
Can a return or pick up be added to my fuel tank?
Yes, with a Moeller sending unit with a return built into it. (035724-10 just a return)(035789-10 pick up or return).
What is the size of the fill, the vent, and the pick up?
The standard size of the fill is 1 1/2″.
The standard size of the vent is 5/8″.
The standard size of the pick up is female 1/4″ NPT.
Can fittings be relocated on a below deck fuel tank?
No, not without a mold revision.
Can a hole be cut into a Moeller fuel tank to add an additional fitting?
No
I smell gas. Can my below deck fuel tanks be leaking? What should I do?
Non Low Permeation fuel tanks will permeate some fuel odor, not fuel vapor. The ventilation of the fuel tank compartment is critical. Take your boat to a qualified technician and have your fuel tank pressure tested.
What is the life expectancy of my Moeller fuel tank?
If a Moeller fuel tank is properly installed in the vessel, the tank should last the life of the vessel.
Can I install my below deck Moeller fuel tank above deck or visa versa?
Please follow the ABYC H-24 regulations when installing a fuel tank.
What is the sending unit bolt pattern?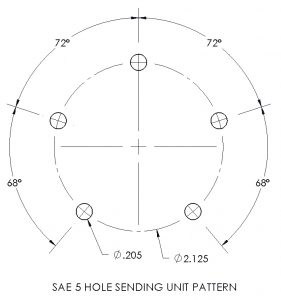 Can I pull fuel from 2 tanks at the same time with any of your products?
This can be done, but Moeller does not offer fittings to do this.
Do I need a barrier lining in my fuel tank if my boat is a 2011 or older?
No
If any fittings are moved, should the fuel tank be pressure tested before using again?
Yes
What PSI should Moeller fuel tanks be pressure tested at?
3″ PSI . This is compliant with NMMA regulations.

---
Fluid Extractor FAQ's
Can I order longer hoses for my fluid extractor?
We do not offer longer hoses. Moeller will offer replacement hoses for the 035330 and 035340. Those could be linked to the current hoses to extend the overall length.
Can I use my fluid extractor to empty my fuel tank?
No, never use a Moeller Marine fluid extractor for gasoline.
Can the fluid extractor be used to remove other automotive fluids (coolant, brake,
transmission, power steering and differential fluids)?
Yes, Moeller's fluid extractor can be used for oil, transmission fluid, antifreeze/coolant, power steering fluid and differential fluids. Do not use with brake fluid or any flammable liquids. It is recommended to have a dedicated extractor for each fluid type to eliminate cross-contamination, as it would be difficult to clean 100%.

---
Paints FAQ's
Why did Moeller stop selling zinc chromate primer?
Like most US companies throughout the marine, automotive, and aviation industries, Moeller now offers a non-chromate alternative as an engine primer. We no longer offer zinc chromate because we have changed suppliers. However, testing indicates that the performance between the two is equivalent. Our self-etching phosphate primer chemically bonds with aluminum and steel to form a corrosion-resistant base coat. It exceeds 800 hours of the 5% salt spray corrosion test, and is ideal for spot repair of damaged coatings. Best of all, our new zinc phosphate primer performs as well as the zinc chromate of old, and makes an excellent—and safe—alternative.
What temperature should I use Moeller paint in to obtain the best results?
Use aerosol when can temperature is between 15ºC and 30ºC (60ºF and 86ºF). Ambient temperature should be between 21ºC and 27ºC (70ºF and 80ºF). Ideal humidity should be >50%.
Do I need to use a primer with Moeller paint?
A primer may be required before painting. Check label directions to see if a primer is recommended and , if so, for what applications.
How many coats of Moeller paint will it take to cover my area?
It is better to apply several light coats than one heavy coat. See label directions for recommended recoating time.
How do I prepare my surface for painting?
Use a 108-320 wet or dry sandpaper to remove rust, scratches, or bad surface damage. Then use 600 grit wet or dry sandpaper to remove 320 grit scratches. Wet sand the entire area to be spray painted with 1500 grit wet sandpaper for adhesion purposes. Entire area to be painted should be dull and smooth. Thoroughly clean the area to be repaired with dish soap (Joy, Dawn, etc) and water. Completely dry the area. Use prep solvent and a clean lint free towel to assure the surface is free of wax, oil, and other surface contaminates. For better results, do not apply paint in direct sunlight, high humidity, or where silicone waxes and tire dressings are present. Mask off adjacent panels to prevent overspray.
How do I apply the primer?
Shake primer well. Apply aerosol primer spray paint over clean scuffed metal or plastic. Primer will fill 320 grit wet sandpaper scratches. Apply 3 or more coats waiting until dry in between coats. When dry, primer can be rough sanded with 400 grit sandpaper. The final sanding should be done with a 600 grit wet sandpaper. Before using the basecoat color, clean with water and/or prep solvent. Dry the area thoroughly. Use a tack rag to clean the area from light dust. The area needs to be clean and completely dust free.
How do I apply the color coat?
Mask off adjacent panels to prevent overspray. Thoroughly shake the base coat color before applying. Apply as many medium coats needed to cover the area. Each coat should appear uniform and dry before applying the next coat.
How do I apply the clear coat?
Shake clear coat well. Allow 30 minutes of drying after the base coat color has been applied. Apply 3-4 coats waiting 5-10 minutes in between coats. Each coat should look wet and glossy but not dripping. Wait one day to sand and polish. Clearcoat can be lightly wet sanded with 1500 grit sandpaper to correct texture or to remove dirt from the finish. Rubbing compound will remove 1500 grit sandpaper scratches from paint and will also bring the clearcoat to a high gloss. Do not wax for one month.
Where can I find the SDS sheet for Moeller paint?
You can find all safety data sheets for Moeller paint in our Resources area. Click here.
---
Portable Fuel Tanks FAQ's
Can I install a sending unit on a portable fuel tank?
No, we do not recommend this.
What horsepower is necessary/sufficient for the new EPA Fuel caps to work correctly?
There is no horse power rating for this cap. They should work properly with any horse power.
My new Moeller above deck tank swells up like a balloon. Why?
New EPA requirements have eliminated the manual open atmospheric vent on the portable fuel tank. The tank now is required to hold up to 5 psi. before automatic pressure relief. The portable tank can handle up to 15 psi.
I'm not sure you understand my situation. My tank cannot be venting.
It may vent during the diurnal temperature cycles of the day. You may also manually relieve the pressure before removing the cap by using the momentary push knob on the top of the tank. With the tank not being able to vent into the atmosphere under 5 psi, the EPA has calculated that the total amount of hydrocarbon emission reduction per portable fuel tank is acceptable. This reduction greatly reduces air quality issues.
When I am not using my boat/tank, what do I do with my tank?
Per USCG and ABYC regulations, manually depress the center twist knob to release all pressure from inside the tank, then close the twist knob on the cap closing the automatic vent. Disconnect the fuel line from the fuel tank.
I cannot get my fitting screwed into the 90 degree elbow. What am I doing wrong?
Check both parts for correct sizing. Validate threads (male to female are clear of debris).
My float arm is sinking to the bottom of my tank that is full of gas. What is wrong?
This is a potential QA issue with the production of the float or additives being introduced by the customer reacting to the float material impacting the float.
How snug do I tighten my pick up assembly?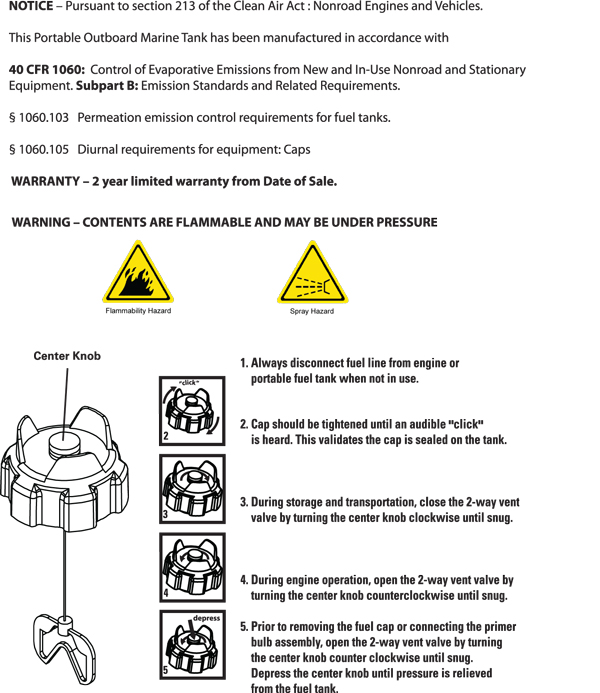 I cannot get fuel to my motor. What is wrong?
Take your boat to a qualified technician and have your fuel system reviewed. Moeller cannot perform installation validations remotely.

---
Fuel Line Connector & Assembly FAQ's
Is Moeller aware of anyone who still manufactures a 3 prong outboard motor fuel line fitting
for an outboard that uses a pressurized fuel tank?
This is an old 3-prong fitting for a Johnson/Evinrude metal tank that included a line for pressure and a separate line for fuel. It's probably at least 25 years old if not older. VintageOutboard.com is a company that did still stock these as of 11/08.
Can Moeller fuel line assemblies and connectors be used with diesel?
Yes, but is you are using bio-diesel fuel, they cannot.
My Honda connector is different than the one Moeller offers. Why?
We revised our fitting, 033497-10. You will need to contact the manufacturer for the style connector that you have.
What size are the pick up threads on aftermarket tanks?
1/4″ NPT female threads
What are "standard" sizes for hose barbs and anti-siphon valves?
Our barb/anti-siphon valves vary in sizes: 1/4″, 5/16″, 3/8″ with 1/8″ npt, 1/4″ npt, and 3/8″ npt.
What is the material of the bulb in my fuel line assembly?
Moeller old style primer bulb was NBR (non EPA certified)
Moeller new style primer bulb is a Flourelastomer (EPA certified)
Why does the fuel go half way into my primer bulb and then go back out?
The check valve may be stuck. Tap the bulb to see if that resolves the issue. If not, please return it for a replacement to the store it was purchased from.
Should I use any sealant on my threads:
You can use Slic-Tite or teflon tape that is E10 compliant.

---
Sending Units & Gauges FAQ's
What is the ohm range for the sending units and fuel gauges?
Our sending units and gauges operate with the industry standard 33 ohms (full) to 240 ohms (empty).
Will my gauge work with your sending unit?
Most analog gauges work with our selection of sending units. Please consult the manufacturer of the gauge you have or want to use to see if it operates between 33 to 240 ohms.
What is the proper orientation of the sending unit?
The sending unit bolt-hole pattern is offset slightly to ensure that the sending unit only fits in the desired orientation. The bolt hole pattern can change with different tank models/manufacturers.Take the screws and gasket off of the new sending unit. Place the gasket on the tank, rotate it until the holes line up, and mark the edge of your gasket. Place the gasket and screws back on the sending unit, matching up the gasket holes with the sender holes. Attach the sending unit to the tank, tightening your screws down in a star pattern. This ensures the proper seal for your sending unit. Moeller offers a 5 hole SAE pattern (SAE J1810).
My gauge stopped working. How can I tell if it is a faulty gauge or sending unit?
Check the wiring for any loose connections. Ohm test your sending unit. If the sending unit tests good, then your gauge may be defective and need to be returned to the place of purchase.
How do I test my dash mounted electrical fuel gauge?
To test your gauge, turn the power off and the gauge should read below empty. Disconnect the sending unit wire from the gauge. Apply power to the gauge. To do a quick test, use a jumper wire and momentarily connect the sender terminal on the gauge to the ground. The needle on the gauge should go past the full mark. If the gauge passes these steps, the gauge should be operating correctly.
Are Moeller sending units compatible with diesel?
Yes
What hole size is required for the fuel gauge and sending unit?
2″ diameter hole for the fuel gauge and 1 1/2″ hole for the sending unit.
How do I wire a sending unit?
See gauge and sending unit wiring diagram below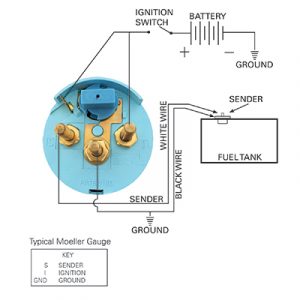 How do I actually cut and adjust the swing arm sending unit?
Please follow the instruction sheet closely that is enclosed with the product.
What gauge wire do I use for sending unit / gauge installation?
16-18 gauge
Which sending unit can I use in my fresh water/waste tank?
We do not carry FDA approved sending units for fresh water. Any sending unit can be used in a waste water tank. Wema USA (www.wemausa.com) offers fresh water sending units direct.
Is my Moeller sending unit / gauge compatible with other brands?
Yes, please verify that the Ohm range is correct.
What kind of sealant do I use for replacement sending units?
No sealant is required. If you choose to use a sealant, please be sure it is E10 compliant.
If I have a mechanical sending unit, can I use an electrical gauge?
Yes, you would need to use our conversion capsule (PN 035760-10).
My sending unit reads full when the tank is empty and empty with the tank is full.
What do I do?
Check the wiring. If the unit is wired correctly, check the unit with an OHM's gauge. If the sending unit checks out, have the gauge tested.
What is the difference between mechanical and electrical sending units?
Mechanical sending units are controlled with gears and have a gauge on top of the unit.
Electrical sending units are generally reed switch or resistor style typically used with an electrical dash mounted gauge.
How many volts go to an electrical sending unit?
None, 12 volts would go to the sending unit gauge.
The electrical sending units work off of resistance.

---
Diesel FAQ's
Are your plastic tanks suitable for use with diesel fuel?
Yes, our tanks can be used in diesel applications. Please check the specific model to see if it has a built-in return line fitting that is required for diesel applications. We offer a universal sending unit with an integrated diesel return (PN 035789-10) to retro fit a standard tank for diesel use.
Can I use your Water Separating Fuel filter with diesel fuel?
No, our water separating filters are not recommended for use with diesel fuel.
Do I need a special sending unit for diesel fuel?
If your tank already has a separate return line, then any of our fuel sending units will work. If your tank doesn't have a separate return line, you would need to replace your current sending unit with our universal sending unit (PN 035724-10 or 035789-10) that has an integrated diesel return.