Venting a tank internally moves as much of the plumbing to the inside of the tank as possible. This approach reduces the number of access points required above the tank to meet ABYC requirements, while enhancing flexibility of the system and making the tank easier to install. Many builders find that working with fewer connections—or designating the connection locations—means that the tank works better in their application.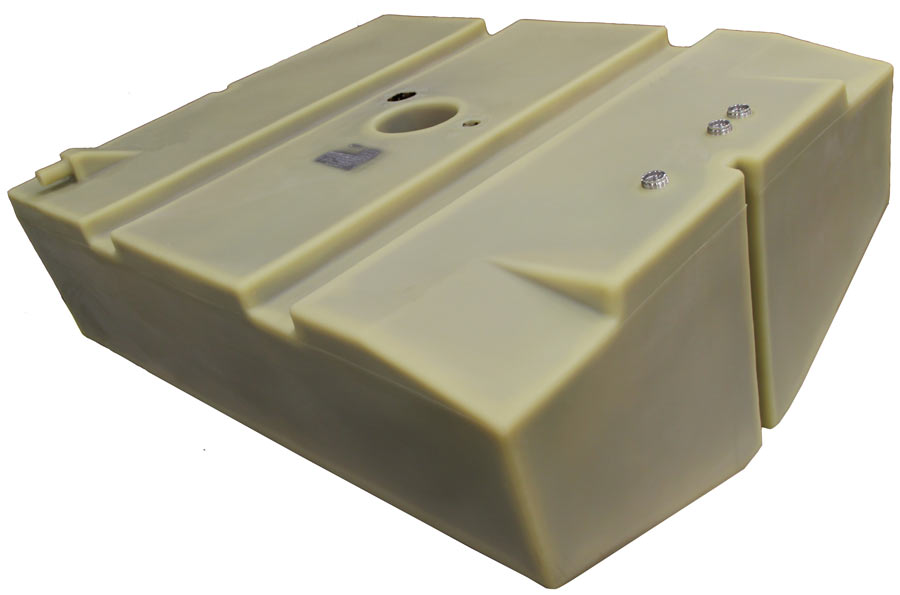 Moeller provides boat builders with custom venting options and component locations for both plastic and aluminum tanks.
Adding internal venting to an aluminum tank is a relatively simple process because aluminum tanks are constructed in pieces. Tubes, vents, and other internal hardware may be welded to the inside before the final closing and welding of the tank. The required components are added to the exterior of the tank following assembly.
In a plastic tank, the internal venting and components must be added to the mold prior to the molding of the tank. All internal components must therefore be able to withstand the temperature of the molding process. After the tank has been molded, necessary components are added to the tank exterior. Moeller has been molding standard internal vents in non-barrier, barrier, and non-diurnal tanks for many years.
In 2013, Moeller introduced custom internal venting to its line of plastic tanks. Improved processing, combined with our experience in molding standard internal vents, enables us to produce tanks which give builders both the venting and fill level controls required by ABYC. Custom options range from distant-sensing remote GRVs or FLVs to designs using installed diurnal components. Contact your RSM for more information about your options for custom internal venting.
Advantages of the Internally Vented Tank

Consolidation of fittings to builder-specified location(s)
Tubes and hardware molded or mounted inside a tank to clear the top of connections and fittings
Tubes and hardware molded or mounted inside a tank to clear the top of connections and fittings
Elimination of boat deck plates and access ports
Simpler installation than an equivalent diurnal system with external valves
Compliance with all ABYC standards
Full internal vent and internal FLV function in the tank
Design flexibility: Moeller can develop a new tank with—or convert an existing aluminum or plastic tank to—internal venting per H-24.18.2-4
Full 360°FLV swivel with internal FLV
Moeller, Attwood, Perko, or BluSkies components work in conjunction with internal venting
May be used with carbon canister or pressure systems