Moeller Earns ISO 9001:2008 Certification
Contact: Holly Hunter
931-738-8090 X 241
hhunter@moellermarine.com
SPARTA, TN – NOVEMBER 11, 2014– Moeller Marine Products, a worldwide leader in rotationally-molded fuel and water systems, is proud to announce its recent ISO 9001:2008 certification.
The ISO 9001:2008 standard is a quality management system which helps ensure that customers get consistent products and services of superior quality. Part of the ISO 9000 family of quality management systems standards developed by the International Organization for Standardization (ISO), ISO 9001:2008 encompasses eight management principles:
1. Customer Focus
2. Leadership
3. Involvement of people
4. Process approach
5. System approach to management

6. Continual improvement
7. Factual approach to decision making
8. Mutually beneficial supplier relationships.

"There are no grades of competence within ISO 9001:2008; either a company is certified–meaning that it's committed to the ISO model of quality management–or it's not," explains Gary Eich, Moeller President. "In a service-oriented business like ours, the certification sends an important message to our customers and end users: that Moeller Products are safe, reliable, and of good quality. The certification process involved every operation and process throughout the company, and I'm proud of everyone for helping to make it happen."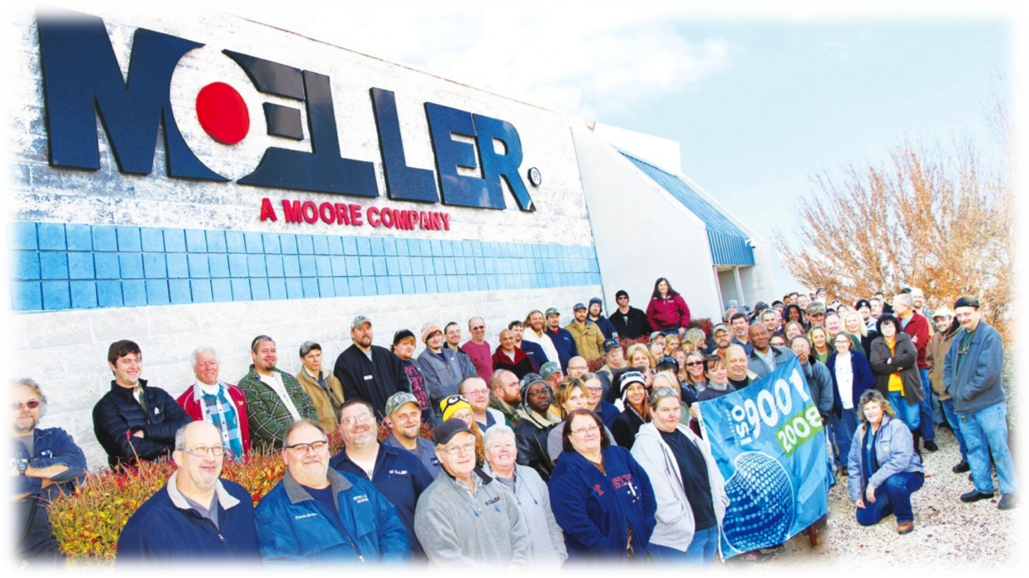 ISO 9001:2008 is a management system that helps organizations meet the needs of customers. Each Moeller employee helped earn the certification. Here, staff members from across the company celebrate–in the cold!
The ISO develops standards and systems, but certification—assuring that the product, service or system in question meets specific requirements–is performed by a different group. UL DQS, Moeller's certification agency, conducted an in-depth audit of the various Moeller departments, functions, products, services, and processes.
"An independent agency has determined that we put in place a quality system that everyone understands and follows," points out Joe Clerger, Moeller Quality Assurance (QA) Manager. "We test– validate and verify–to make sure that each product meets design specs, regulatory requirements, and customer expectations, and we systematically evaluate our quality processes for continuous improvement."
ISO 9001:2008 Certification also demonstrates that Moeller has implemented policies for communicating with customers, including procedures for feedback and complaints. No surprise there–the know-how and enthusiasm of Moeller Customer Relations Representatives is recognized by distributors, dealers, and end users alike. According to boater Pryce Richards of Boca Raton, FL, "I've had three opportunities to deal with Moeller and all three have been over and beyond my experience with any company, from any industry. I've never experienced this level of attention and commitment from another customer service group—and I'm in my sixties! Moeller has the kind of customer service department that wins awards."
About Moeller Marine Products
Moeller Marine Products, pioneers of fluid and storage containment technology, is the largest manufacturer of rotationally molded, injected, and thermoformed parts in the recreational marine industry. Moeller offers a comprehensive line of topside and permanent tanks, jerry cans, delivery systems, livewells, water and waste tanks, drain pans, seat substrates, offshore chairs, and custom interior components. Moeller Marine Products furnishes nearly every boat builder with fuel systems: from bass and ski boats to offshore salt water fishing. Moeller's leading Original Equipment Select branded products are renowned throughout the domestic and international marine aftermarkets. A subsidiary of The Moore Company, Moeller enjoys the resources and guidance which only a 100+ year-old corporation can provide.
©2014 Moeller Marine, Inc. All Rights Reserved.
---